When I started my first online business back in 2005 I would have only been able to dream about the different types of marketing tools we have available to us nowadays.
In today's article, I want to share a few of my favorite and what I think are the best online business marketing tools here as we head into 2019.
Depending on your business you may not need all of the tools, but I think they'd be worth looking into as they've all either helped me generate more revenue or become more productive with my time.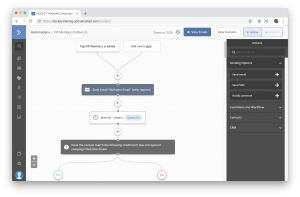 An email marketing + CRM tool is extremely important for all businesses.  This will allow you to send emails out to your prospects and customers and get your message in front of them when you need to.
ActiveCampaign is easily the best service I've used for email marketing.
Not only do they have a lot more features available than most other tools, they also have an easy to use interface that was easy to learn (unlike some that are extremely confusing).
Some of my favorite features to use on ActiveCampaign include:
Segmenting our email list based on what people are clicking on in our emails
Automatically connecting our segments to Facebook custom audiences for retargeting purposes
Building complete automations to take customers through an onboarding journey when they sign up
When using the ActiveCampaign segmentation tools you can group your customers or prospects into different 'buckets' and then send specific emails at specific times to only the people you want.
An example of this would be, for our Hockey Training website, where we group the prospects into age ranges and are able to send out separate emails to each age range to talk to those people specifically and recommend workouts and programs that are geared for only them.
One of the issues with email marketing these days is that people aren't opening their emails, and ActiveCampaign is helping us battle this issue by making it easy for us to re-send emails or create new emails to send to people who didn't open a previous email (or opened but didn't click on your call to action link).
There are too many features to list in this article, but go over to www.ActiveCampaign.com to learn more about their product.
Team Communications – Slack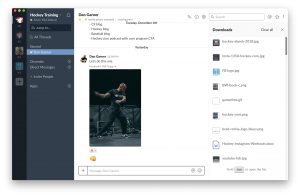 If you haven't heard of Slack you are in for a treat.
To put it simply Slack is like an instant messaging services for businesses.
Now that might sound like something that could decrease productivity, but it was designed to increase productivity, save you time, and stay more organized as a business.
Slack was designed for teams of all sizes, and even worked great for just Dan and I when we first started using it.
Instead of sending emails back and forth we switched over to Slack, and it was a complete game changer for us.
(we love it and recommend it so much that we are going to publishing a complete course on how to use Slack to increase productivity, focus, and organization in your business)
Slack can be downloaded to your computer or phone, or also just be opened in an internet browser, making it accessible anywhere you have an internet connection.
Within the app you can create a number of different 'channels' or discussions threads to talk about specific topics, and you can also message people in private messages if you only need to talk to someone one on one and don't need others to see.
For our business, we have our team of contracted employees (graphic designer, virtual assistant, content manager) in our Slack group and we communicate with them through there.
Because you can invite certain team members into certain channels, we have our channels broken down into 3-way conversations with each team member.
This way if Dan and I want to start a discussion with our graphic designer about an upcoming project we would use that channel so that people who don't need to see the conversation won't see it.
Within the conversations you can:
Reply to a specific message with a simple click of an emoji (good for eliminating unnecessary "Ok great, sounds good" type emails)
Set reminders to have that message pop up for you later, tomorrow or next week
Mark messages as starred or favorite them to find them again easily
Hop on an audio, video or screen share call
And so much more.
Overall Slack is basically a way to eliminate confusing email threads and at the same time add a ton of extremely useful features in for your team communications.
I highly recommend you give it a try and give it a few weeks to get used to it – it will change your business communications for the better!
Host Online Products + Courses – Teachable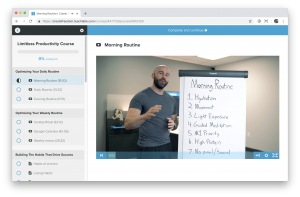 I have been looking for a tool like Teachable for years, and have been amazed at what you can do with it.
Teachable allows you to host your online products or courses, allowing anyone to create an online product or course with ease.
If you want to see Teachable in action you can check out our Create Freedom Academy.
I went from signing up for an account to creating and getting our courses live in just a few hours of work.
Within Teachable you can upload videos, PDFs, documents, etc in a private member's area for your customers to log in and view the material.
You can allow customers to comment, go through quizzes that you've created, mark their material as completed, and a lot more.
It is basically everything you'd want if you're selling a course online, and the setup process is extremely easy (they will even host it in our their domain if you want).
I would say someone with no online experience could figure it out within one day – that's how easy they've made it.
And not only do they make things simple and have great features, but the member's area also looks beautiful and is completely mobile friendly.
If you want to sell a course or product online I'd recommend setting it up through www.Teachable.com.
Project + Content Planning / To-Do List Organizing – Trello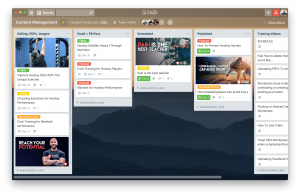 Trello has been a savior for me, and I think it might be for you as well.
To put it simply, Trello is a way to organize your thoughts.
This also is a software or app you can download or just use in your Internet browser and is something I use on a daily basis.
You can think of it almost as a virtual whiteboard or post-it note board, but with way more features than any of those would be able to do for you.
There are many ways you can use Trello in both your business and personal life, but I will just share the ways I'm currently using it in my life to give an idea of what you can do with it.
Currently, our business has 3 main Trello "boards" as they are called.
The first is a "To-Do" board.
Within this board we have our list of tasks that need to be done this week, and separate lists for tasks that need to be done in the future.
Within each Trello board you have "lists" that allow you to create different topics or categories.  So within our To-Do board we have lists such as "Kevin's Weekly To-Do", "To Film", "Images To Create", etc.
And under each list you have what are called "cards" – think of it as a different jot note under each list that you can make as simple or as in-depth as you want (with the ability to attach docs, images, etc).
For example, under my weekly to-do list, I would have a card for each task I need to get done for the week.  Once it's finished I can either delete it with a simple press of the button, or what we like to do is slide that card over to a list called "finished tasks" so we can meet at the end of the week and discuss what we got done.
This may sound confusing, but it's simple once you get introduced to the app and will make your life 10x more organized.
Our other Trello boards include an "Idea Brainstorming" board and a "Content Management" board.
The Idea Brainstorming board is for any ideas we have in our business.  Dan and I are constantly coming up and going back and forth with ideas, pursuits, and opportunities within our business.
The worst thing you can do is just keep those in your head and think you're going to remember them, we used to just write them down in a list or in a document, but now with trello we can organize those into different categories to keep everything completely organized.
And, lastly, the Content Management board is a way to visually help us and our content manager plan and launch our content.
On the left side of the board Dan or I will upload content we've created.  Our content manager will then move it along to the different lists as she gets the tasks done (ie, get image created, create email for this piece of content, schedule release date, etc).
This makes life easier for our content manager, as she can see everything laid out clearly, and then it also allows us to see what stage each piece of content is at in the publishing process.
From here we can also communicate directly within the cards if we need to talk about a certain content piece.
Again, this may all seem confusing, but it's all very simple once you see it in action.  Let me know if you'd like to see a video demonstration of how we use Trello in our business.
Trello can be used in your personal life as well.  Very similar to my business stuff, I have a trello board for my personal and "around the house" to-dos.
Get started with Trello for free here.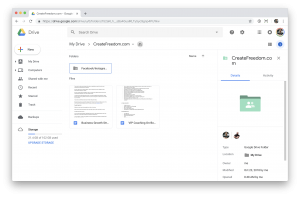 If you aren't using a cloud software or tool yet I'd highly recommend the Google Suite product for businesses.
This will give you access to the Google Drive for storing files on the cloud and making them easily shareable between team members (plus giving you peace of mind that they are stored in the cloud).
You can also use this account to set up a business Gmail account, use Google Calendar, Docs, Sheets and a lot more.
I've personally used Google's product suite to get rid of paying the Microsoft Office (Word, Excel, etc) yearly price, and the products are just as good or better in my opinion.
What we do with Google Drive is set up folders that we want to share with certain employees.
For example, we might have a folder for our video editor where we would upload all of the video files to so that he can download them from there.
Check out the Google Suite package here.
Wrapping It Up
Those are, in my opinion, the best online marketing tools out there right now in 2019 for fitness entpreneurs (or any entrepreneur, really).
I've used a lot of different tools over the years, and I'm confident that you will be happy with any of the tools listed above.
If you have any suggestions on a tool that I don't have listed let me know in the comments, I'd love to hear about it!