Instagram launched IGTV in the summer of 2018, and it started out as a pretty epic failure…
Since then, Instagram has implemented some changes that have improved the IGTV experience and it now makes sense to look into as a marketing strategy for businesses.
In this article, I'm going to talk about some of the changes and provide you with a strategy to help you grow your Instagram following and reach more potential customers.
What Has Changed With IGTV in 2019?
The IGTV platform started off as it's own separate app.
Creators could upload videos to IGTV and Instagram would notify their following that they posted a new video, but users would have to click over and open a new screen to watch the video.
Most people were ignoring those notifications and not watching the IGTV content because it interrupted the app experience.
The first major IGTV change in 2019 was when Instagram started to incorporate the IGTV videos directly into the main Instagram feed.
Now creators have the option to link a preview of the IGTV video (the first 60 seconds of the video) in their regular Instagram feed – which appears just like a normal Instagram post would.
When the user gets to the end of the 60-second preview, they have the option to click an on-screen button to finish the video (which opens it up in the IGTV 'app').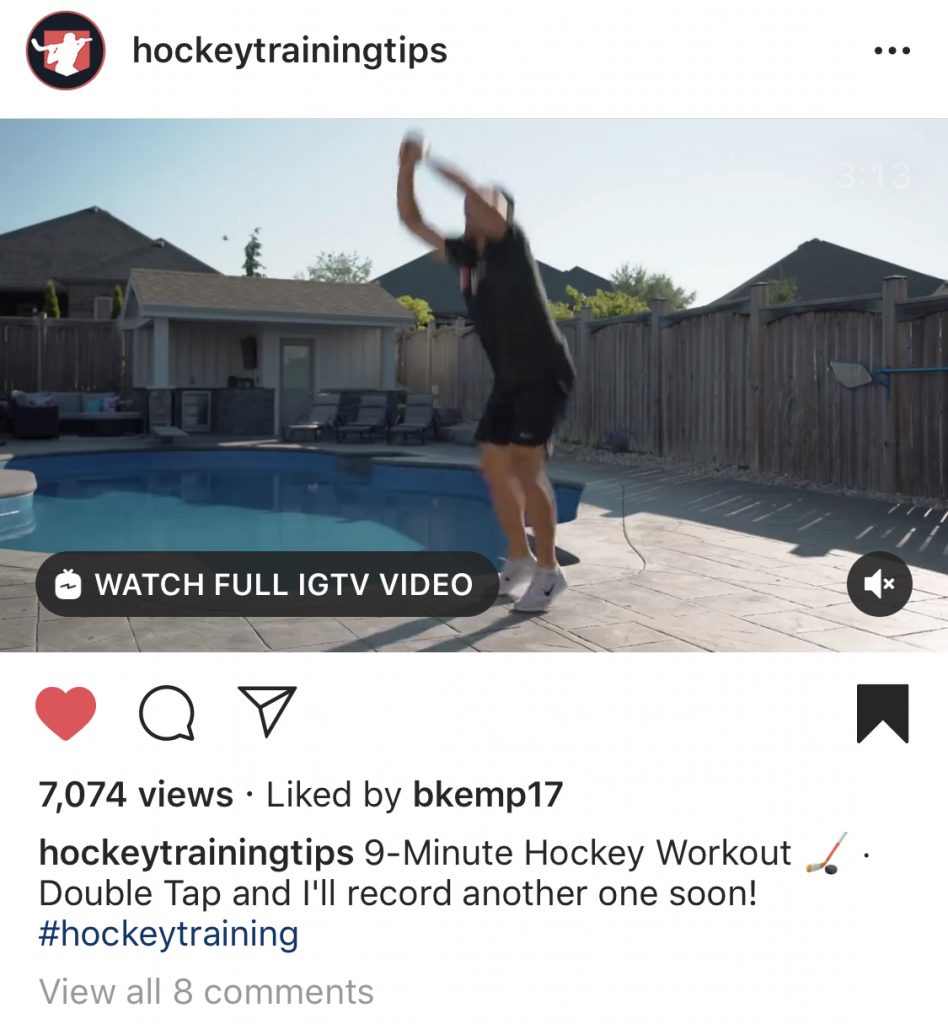 Because these IGTV preview posts are built right into the app experience you will now notice a huge increase in engagement.
Instagram users are used to watching videos in their feed and if you can provide them with entertaining and valuable video content within the first 60 seconds, many will continue over to watch the full video.
You will also notice that your IGTV videos will get a lot more "likes" being in the regular feed, which will help drive engagement (we will get to that in the strategy section).
Horizontal Videos on IGTV
The next massive change that IGTV has implemented in 2019 is allowing horizontal videos.
Previously IGTV was a vertical-video-only format. This meant creators who shot videos for websites or YouTube horizontally wouldn't be able to publish those videos to IGTV.
Now IGTV has opened it up so that you can either post at a 16:9 or 9:16 format (vertical or horizontal).
This is a massive change, as many businesses have a library of videos that were shot horizontal that can now be shared on Instagram.
How Can I Use IGTV To Get More Followers?
Let's dive into some strategies to get more followers on Instagram through IGTV…
#1 – Just Start Posting Videos
The best part about IGTV videos right now is that Instagram seems to be promoting them quite a bit – most likely hoping that the IGTV platform grows.
This means the videos are being shown in the Instagram feeds more often, and they have a big section in the top right of the explore tab.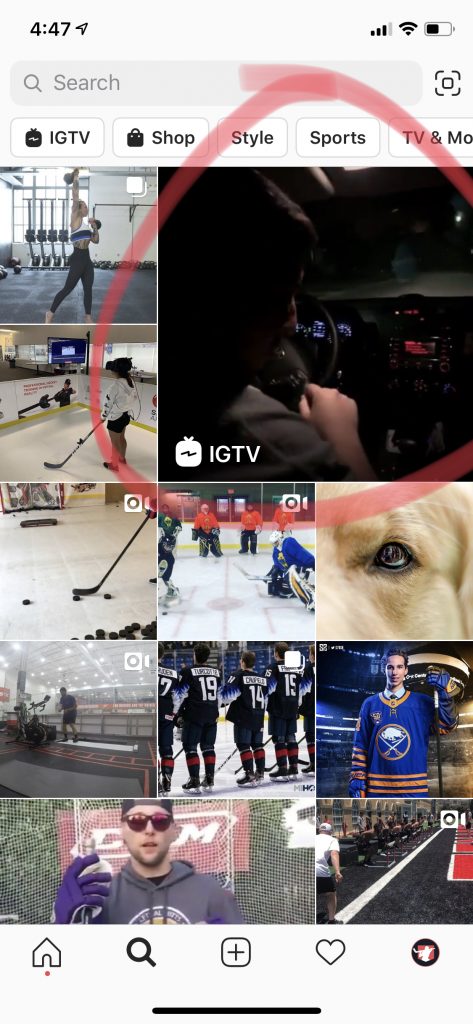 So my first strategy would be to simply start using the IGTV feature and posting a new video every few days.
Ensure you check the "post preview" option so that it shows up in your regular Instagram feed.
#2 – Hook Viewers In First 60 Seconds
Because only the first 60 seconds can be used in the Instagram feed preview you need to ensure that you really hook your audience in within that first 60 seconds.
Better yet, because of everyone's low attention span these days, we want to really hook them in within the first 5 seconds.
You can do this with something interesting or "shocking" that will get them to stop scrolling, but our strategy is usually just to tell the viewer what the video is going to be about and what benefit they'll receive from watching.
For example, for our Hockey Training videos, we start with something like "Hey hockey players, in this video we're going to run you through a hockey speed workout to help you become a blazing fast skater."
If that interests them they are going to keep watching.
From there we just want to ensure we provide an entertaining and valuable video so that they make it past the first 60 seconds and click to watch the full video, also giving us a "save", "like" or "share" on the video.
#3 – Use "Calls To Action" At End of IGTV Videos
If you are making a new video specifically for IGTV you will want to ask the viewer to either "like/double-tap", "share" or "save" your video.
All three of these are options for the video on the main Instagram feed, and Instagram views all three of them as engagement.
The more engagement your video gets the better chance it has to show up in feeds and in the Explore tab on Instagram.
You can simply say something like this at the end of your videos: "And hey if you enjoyed this video or found it helpful I'd really appreciate if you gave it a double tap on Instagram and shared it with someone you think might like it. Oh, and make sure you hit that little save ribbon so you can come back to it when you want to watch it again."
You might be familiar with this strategy if you've started a YouTube channel – it works wonders there and IGTV is no different.
#4 – Use A Few Hashtags
When you're uploading your video you will have a video title and video description. Both of these are posted on the Instagram feed back-to-back starting with the title.
I recommend making the title something catchy that explains what's in the video, and then the description adds to that without repeating the title.
At the end of the description is where I've been using 1 or 2 hashtags that will tell Instagram what the video is about.
This will help Instagram recommend the video in the Explore feature to Instagram accounts who are interacting with posts on similar topics.
#5 – Quality Over Quantity
Some people get caught up in posting things so frequently that the quality of their content starts to slip.
Similar to Instagram, YouTube, Facebook, etc it's always important to post quality videos on IGTV – and not worry as much about how often you are posting.
When nearly every IGTV video you are posting is getting good engagement numbers (number of views/engagement) it will send signals to the Instagram algorithm that your content is quality, and it will start to show up in more places.
Consistency is important, but it's much more important that your videos are quality and people are engaging with them.
#6 – Vertical Video Is Best
Although IGTV now allows horizontal video, I've found that Instagram (or the users) still prefer vertical video.
When posting a preview of vertical video on the Instagram feed the video is cropped to a 4:5 ratio, which takes up a lot of screen space.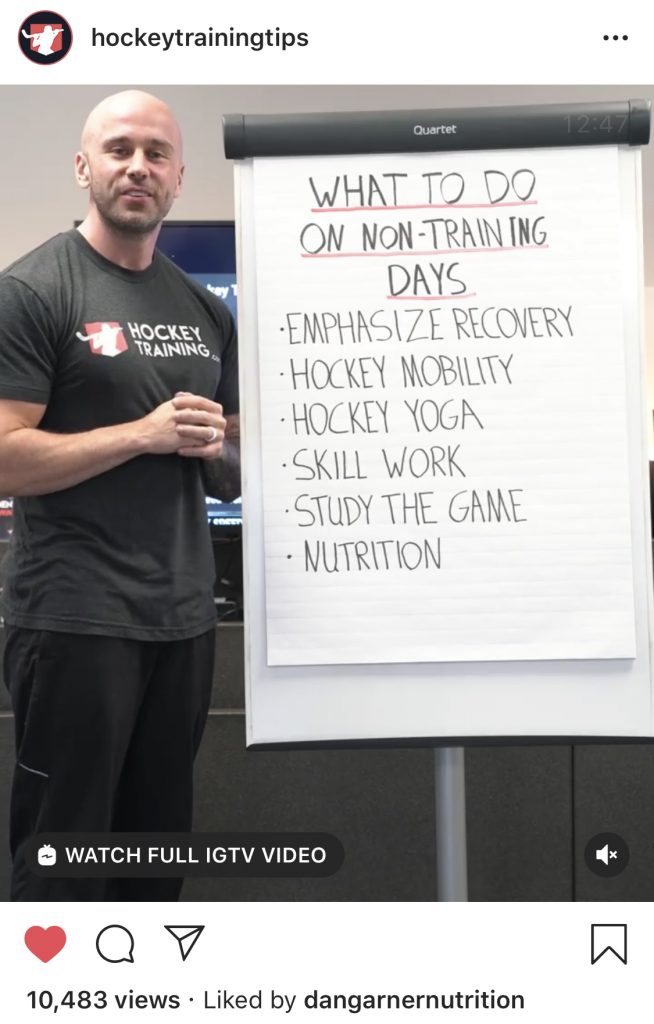 When posting a preview of horizontal video on Instagram feed the video will be horizontal and quite a bit smaller, taking up much less screen space.
If you are creating video solely for IGTV I recommend filming vertically if you want the best chance to be seen.
IGTV Strategies Recap
If you want to grow your following on Instagram in 2019 and 2020 I definitely recommend bringing the IGTV platform into your marketing strategy.
Instagram seems to be promoting the IGTV videos quite a bit right now, and without much competition, it's a pretty easy way to gain new followers.
The IGTV strategy is laid out above, but the biggest factor to remember is to always be creating value-adding (or entertaining) content that Instagram users will want to watch.
The more people engage with your content on IGTV and Instagram the more Instagram will promote you to users that aren't currently following you.
I hope this article was helpful for you, and if you want more strategies to grow your online following so you can make more sales within your fitness business you need to check out our new "How To Become a Successful Online Fitness Coach" Course.